Transforming Visions into Reality
Browse Our Portfolio of Custom-Built Luxury Homes
Discover the unique blend of sustainability, luxury, and meticulous attention to detail that defines every Key Vista Homes project. Our portfolio showcases a variety of custom homes, each reflecting our commitment to energy efficiency, innovative design, and personalized approach. Explore our work and envision the possibilities for your own dream home build.

Preparing for the Pre-Pour Inspection on a Post-Tensioned Slab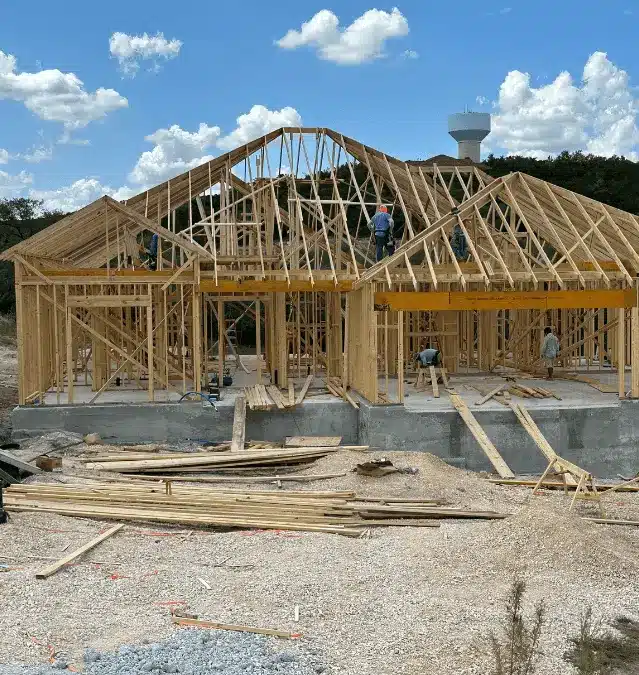 Framing Quality Control is VITAL before everything is covered up!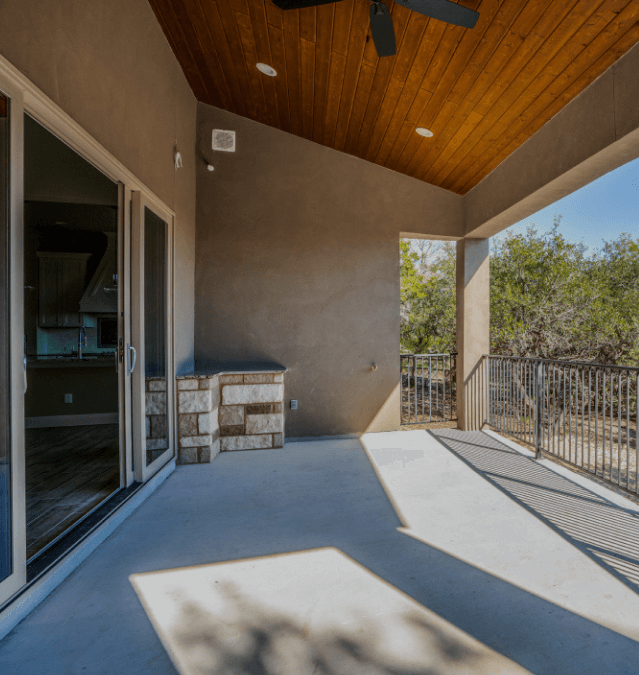 Open Patio Designs with Vistas

Integrate Home into Native Trees and Topography
Our Clients' Sustainable Living Experiences
From the very beginning Jason Key of Key Vista Homes has managed our home project as if it were his own home.
What follows is a little glimpse into our experience with Jason… He always takes the time to sit down with us to determine what our needs are – financial and otherwise—in addition to our desires. He then navigates us through the resource possibilities, always exploring the best design, quality, and value for the cost that meets our budgetary demands.
We especially appreciate that Jason always prepares us for the work to be done by explaining the process, giving us an anticipated plan of events, and then by following up on the work that has been accomplished, making any adjustments necessary and taking care of details. He works closely with his sub-contractors and makes sure we know their schedules.
In addition to being extremely knowledgeable in his fields of building and engineering, he is an honest and trustworthy businessman. We never have to question that Jason has our best interest in the forefront of what he is doing with us. He goes the extra mile to make the difficulty of the construction process as easy as possible for us.
We share this testimonial with great gratitude that Jason Key has blessed our lives with his sincere concern for our project needs and his expertise and resources to guide us in accomplishing our goals. We appreciate our personal relationship with him and highly regard what he brings through his company, Key Vista Homes, to the homebuilding industry!
We moved to San Antonion in the spring and spent a ton of time touring the area and looking for the perfect home. We all know the journey that this can be. Everything always has something not quite right. Compromises always seems to be part of the buying process unless you are building your own home.
Even then, you may find a need to compromise. When we found our home in Timberwood park, not only was the location perfect, the home fit exactly what we wanted. Its set up on a high on the property allowing for an expansive view. The builder maximized this by putting in an elevated attached patio which you enter from large sliding glass doors. But the coolest things is that the front of the house has a large custom glass door which makes the home feel as if its part of the beautiful outdoors.
The tile work around the home: kitchen, fireplace, bathrooms is well thought out. Each detail of tile added a bit of romance and beauty. The home has a very open airy coastal feel but maintains a bit of mountain lodge with added rustic beams above in the elevated 22 foot ceilings in the main livingroom.
The builder thought of everything, understanding that master bedrooms should be amazing, set apart from the rest of the home as if they are their own oasis. The bathroom has a porcelain tub which is set in its own semi private space. The shower has two shower heads and a beautiful tiles bench. The his and her sinks are in fact.. his on one side, and hers on the other. Perfect for a pinch of privacy. The other rooms in the house all have nice woodland views and their own walk in closets. The garage can fit 2.5 cars and it has a large winding drive way to the home through the manicured forest to the home. Its private yet part of everything. They also added attic space, wiring for a sound system and security, double pain windows, dual AC units, and custom cabinets. The utility room is a cleaner dream with a wonderful mudroom for hanging coats and taking off shoes. This house as it stands is perfect. But its also something that can be built on. Its like a paradise built on a wonderful strong foundation. TO add to all that, Jason, the owner, is a kind responsive and helpful person. He is what customer service should be.
I worked with Jason for a couple of months to see about building homes on my property. During that time his commitment and value to the project exceeded my expectations. He listened to what I thought I wanted, looked at what I had and then designed it to make better use of the land and locations on the land of the homes positioning. He always took the time to explain why he designed it as he did and then followed it up with - these are suggestions only; it is yours so make sure you are happy with it. I felt his goal was to use his experience and expertise to design and build the best possible house that I wanted. Jason was proactive in contacting architects, outlined options for funding and constructions loans, he graphed the process and timelines, he gave options that would fit my budget but also gave options that would increase the initial cost, but would give a better return. This was my first experience with a custom build, Jason made it a great experience. He was conscious of my time and my budget. The amount of time he put in and his commitment to the project was exceptional. Jason knew what I wanted more than I did and always had my best interest in mind. I highly recommend Jason for your home build project.